Login
Log in if you have an account
Register
By creating an account with our store, you will be able to move through the checkout process faster, store multiple addresses, view and track your orders in your account, and more.
Create an account
Sun Smart Hats for Advanced Skin Protection
21 May 2023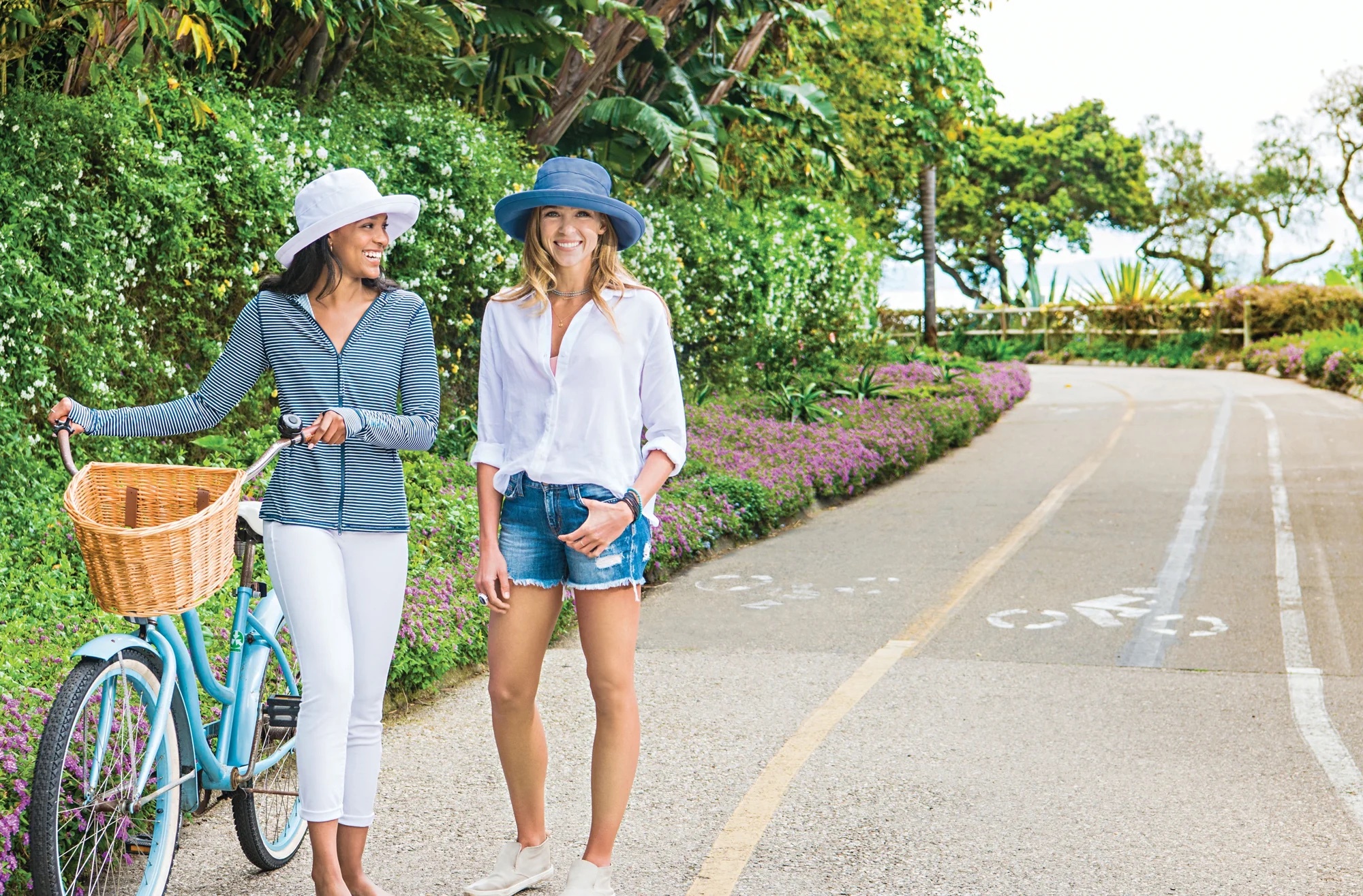 Vancouver has seen its first heat wave already. Even in a cool country like Canada, the sunlight is still strong enough to cause skin cancer, premature aging of the skin and harm to the eyes. Skin cancer is the most common type of cancer, but it's also one of the most preventable. Spoiler—what you wear can make a big difference when it comes to protecting yourself from the sun. 
All hats offer some degree of protection, sheltering the face and blocking harmful UV radiation. However, some do it better than others. As the gold standard in sun protection, we carry an extensive line of hats from the Wallaroo collection.
The US-based founders of Wallaroo were inspired by a visit to Australia, where the threat of skin cancer has long been understood. Their fashionable and functional hats are crafted from SPF and UPF materials—always comfortable, packable, and effortless. Wallaroo makes sun protection practical and stylish—and you don't need to reapply!
Since UPF fabrics are still relatively new to North America—here's what you need to know. Ultraviolet Protection Factor (UPF) indicates how much UV radiation (both UVB and UVA) a fabric can reach the skin. A UPF 50 fabric will block 98 percent of the sun's rays and allows two percent (1/50th) to penetrate, thus reducing exposure significantly.
A fabric needs a UPF of 30 to qualify for The Skin Cancer Foundation's Seal of Recommendation. A UPF of 30 to 49 offers very good protection, while a UPF of 50+ rates as excellent. At Roxann's Hats, we carry a wide selection of sun-protective clothing that meet the requirements of the Canadian Cancer Society. These styles not only offer the highest standards for protection with UPF 50+ fabric. They are also crafted ethnically, meeting the highest standards of social and environmental impact—so they feel as great as they look. 
For 2023, we've compiled a list of our favourite sun-stoppers!
Women's Hats – Charlie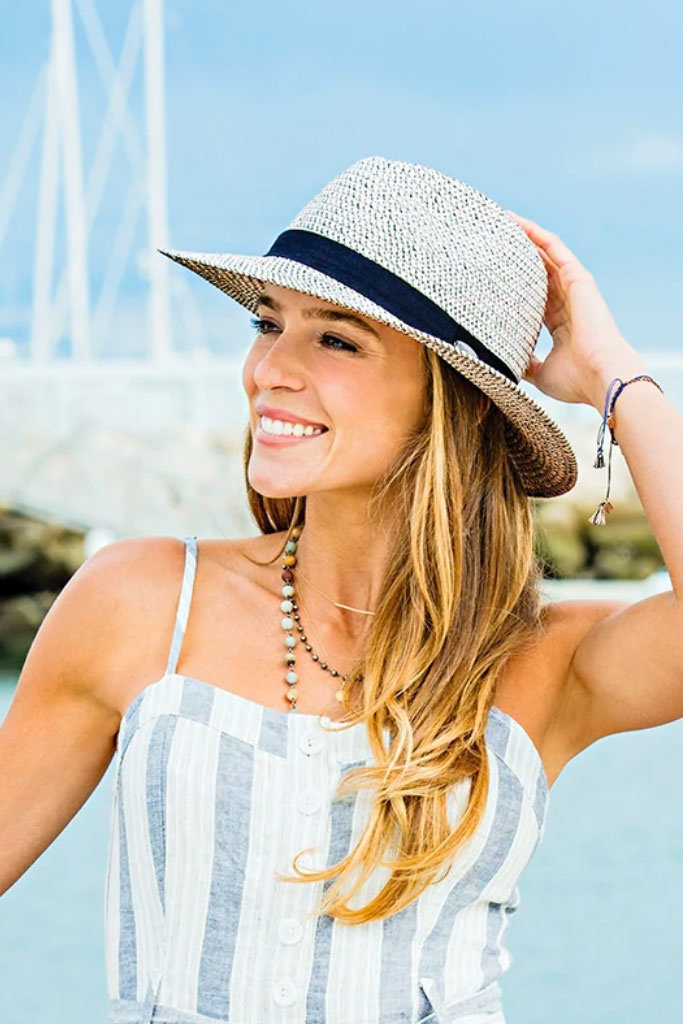 Sophisticated structure and contrast stitching come together in perfect harmony. The Charlie fedora hat looks great sailing, in a park or walking by the water. The neutral tones add a light and airy feel to any outfit, and its packable nature allows this hat to be taken on any adventure. 
Unisex – Palm Beach Fedora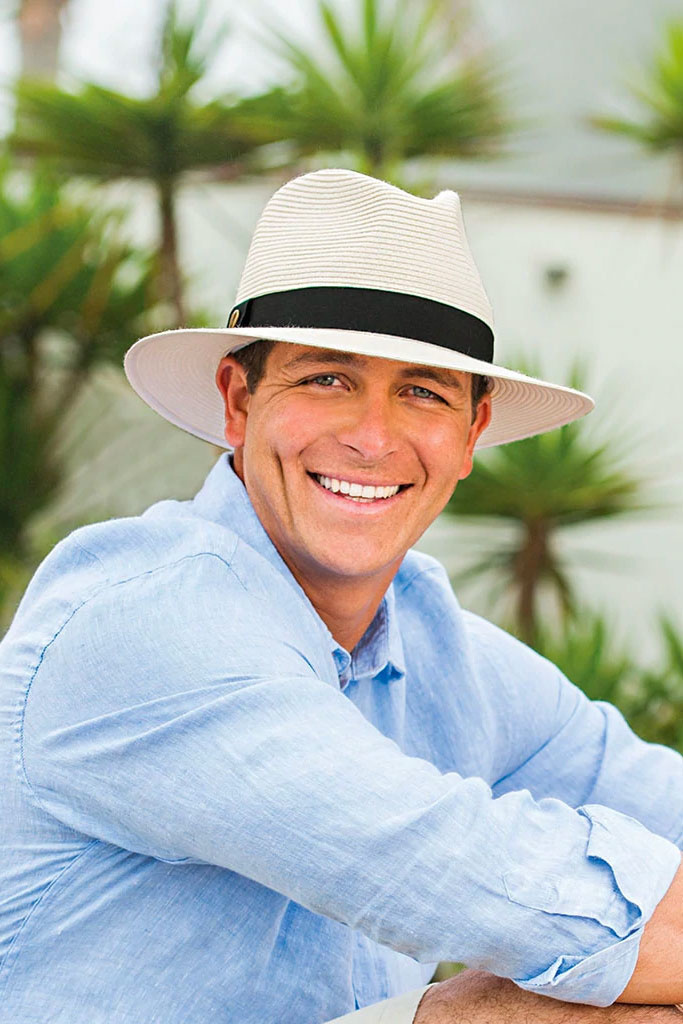 A Flexi-Weave fabric combines comfort and cool style for the perfect hat. The Fedora Palm Beach goes with everything and looks great on men and women alike. Easily packed without losing its shape, it's a stylish travel companion that goes where you do.
Men's Hat – Logan Fedora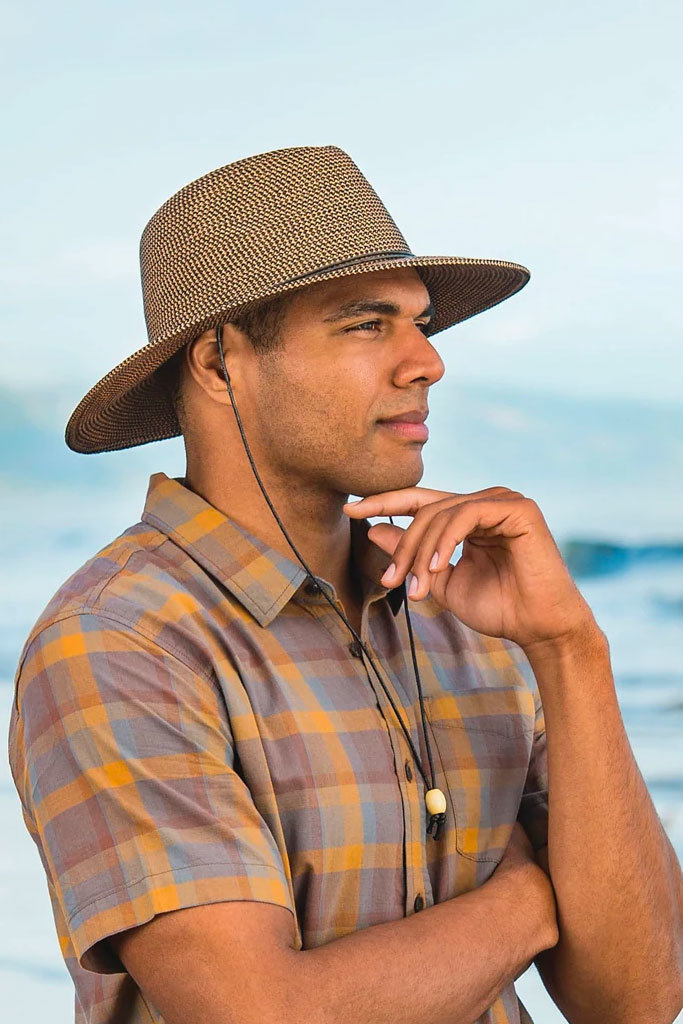 For long treks in the hot sun, the Logan Men's Fedora features a chin strap for windy mountain peaks and a contrasting weave for stylish afternoons in the hammock. Adjust the fit with the inner drawstrings. Finished with a wide brim, faux leather trim, and chin strap for windy encounters, this hat is perfect for kayaking, fishing, paddle boarding--anything that requires stay-put sun protection.
Women's Hat - Kristy Fedora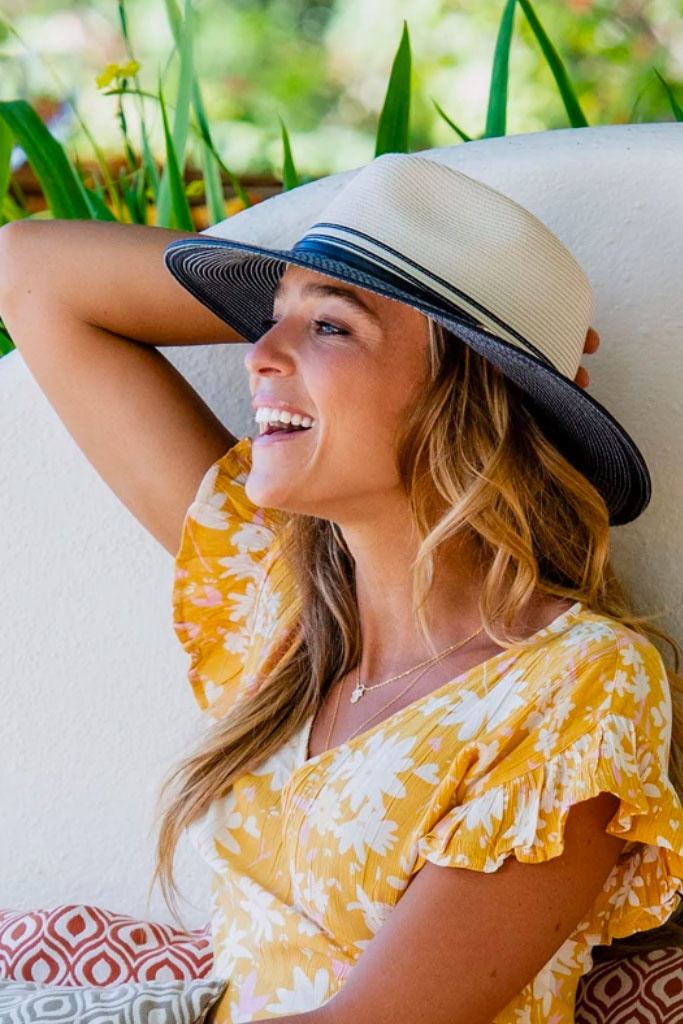 The juxtaposition of raw, natural fibre with the clean, structured lines of paper braid shows opposites really do attract. Featuring a leather cord with gold metal end pieces to bridge the gaps, the Kristy Fedora features bright colours for a cool touch to any outfit. 
Women's Hat – Tahiti Short Brim Fedora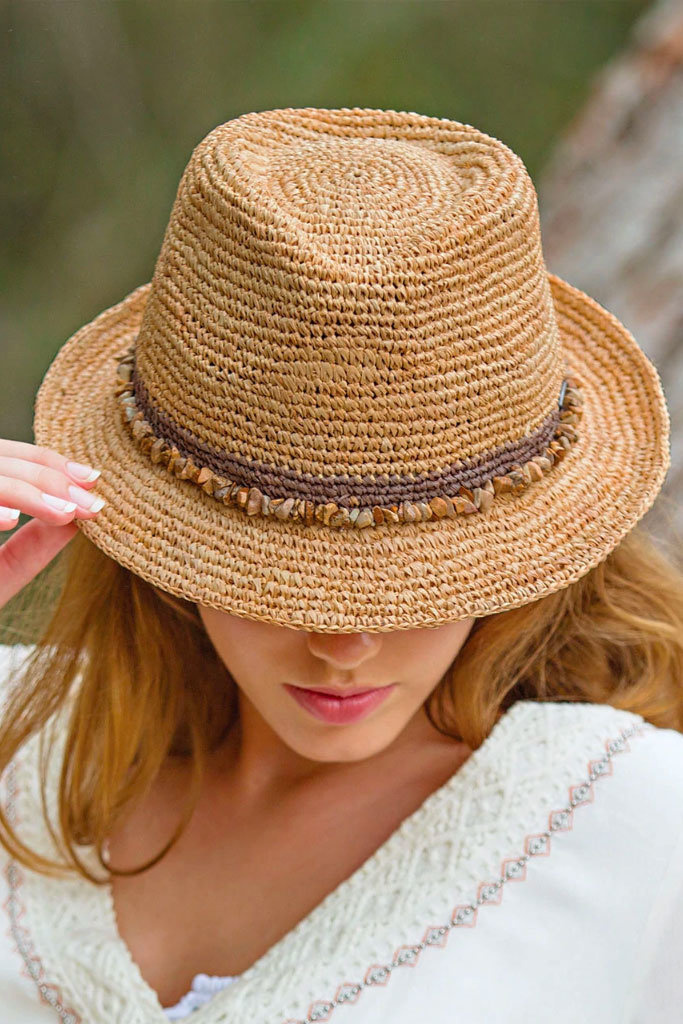 The hip city sister to the Tahiti Cowboy, this versatile Tahiti Short Brim Fedora can be worn anywhere your travels take you. Accented with a colour-dyed band and matching stones for a touch of fashion flair.
Tips for Sun Safe Apparel
Remember--clothing shields us from the sun, but not all fabrics and colours provide equal protection. When shopping for sun-safe apparel, try to keep these factors in mind:
Colour - dark or bright colours keep UV rays from reaching your skin by absorbing them rather than allowing them to penetrate.
Construction – look for densely woven cloth, like denim, canvas, wool or synthetic; thick fibres offer more protection than sheer, thin or loosely woven cloth. Hold the fabric up to the light—if it's see-though, it won't offer much protection.
Content: fabric composition really matters. Unbleached cotton contains natural lignins that act as UV absorbers. Shiny polyesters and lightweight satiny silks can also be protective because they reflect radiation. High-tech fabrics treated with chemical UV absorbers also offer some protection from UV rays.
Visit Roxann's Hats of Fort Langley
If sun protection is a priority, we invite you to visit our store and browse our collection. For functional hats with a genuine style, the team at Roxann's offers elegant UPF 50+ styles for fishing, travel, holidays, and everyday wear. We'll help you find the perfect hat to top off your style.